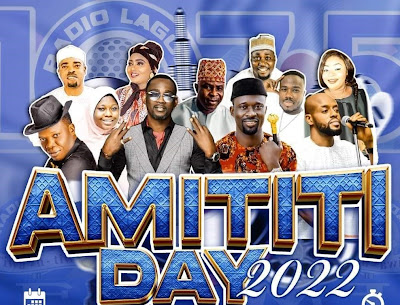 By Lukman Omikunle
The 2022 edition is carefully organized and set to unleash unprecedented maximum entertainment for all comers
The much-publicized 2022 'Amititi Day, an annual music carnival created by Nigeria's premium radio space – Radio Lagos, 107.5 FM, is set to parade top music stars led by sensational fuji music acts, Wasiu Alabi Pasuma and Sulaiman Alao Malaika.
Other star musicians listed to thrill the audience at the much-anticipated event slated to hold on Sunday, 31st July 2022 include popular Islamic singer, Rukayat Gawat, Juju maestro, Mega99, and Saoti Arewa. Others are, fuji music star Sule Adio Atawewe, Aweni Oniwaka, Rukayat Bashiri mi and Ahmad Alawiye among other popular and celebrated musicians.
Amititi Day is an annual event painstakingly put in place by Radio Lagos to celebrate music stars, their countless loyal listeners in Nigeria and across the globe, and of course the entire ever meticulous staff of the broadcast house.
Newsheadline247 understands that the 2022 edition is carefully organized and set to unleash unprecedented maximum entertainment for all comers.
A specified ankara fabric set aside and provided by the ace radio station is the gate pass to the dome of the loud and must-attend event.