The Founder and Executive Chairman of BUA Group, Abdul Samad Rabiu has donated a 150-bed hospital worth N4bn to the Nigerian Police in Abuja.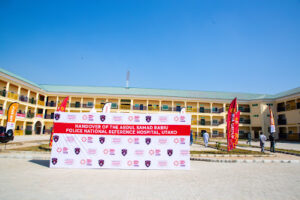 The billionaire businessman donated the hospital to the security agency through his Abdul Samad Rabiu Africa Initiative.
According to the foundation in a statement, the hospital would be called the "ASR Africa Police National Reference Hospital, Abuja", and was funded from an annual $100m ASR Africa Fund for Social Development and Renewal.
Speaking at the physical handover of the hospital, Rabiu said, "Today, what we have simply done is to bring healthcare closer to the people that protect lives and properties in the country and to other Nigerians who will also benefit from the facility.
"We are ready and committed to partner with any government and non-government organisations to make critical interventions and sustainable impact in healthcare and social development for the benefit of the people."
The Inspector-General of Police, Usman Baba, said, the hospital would be equipped to a world-class standard.