A former chairman of Ado-Odo/Ota local government, Abayomi Tella has lost his mother, Deaconess Abeke Sarah Tella at the age of 95.
The nonagenarian was said to have died on Sunday, August 7, 2022 after a brief illness.
A statement issued by the former LG boss confirmed the death of his mother saying she was a devoted Christian who dedicated her life to the service of the Lord.
The statement reads, "The Tella family of Agbara, Ado-Odo/Ota, Ogun State has announced the passing on of their Matriarch, Deaconess Abeke Sarah Tella who slept in the Lord on Sunday, August 7, 2022 at the age of 95 after a brief illness.
"Madam Sarah Tella, a pious and religious mother, is survived by children, grandchildren, and other family members including Chief Abayomi Tella who is currently the Ogun House of Assembly candidate of the Peoples Democratic Party, PDP.
NEWS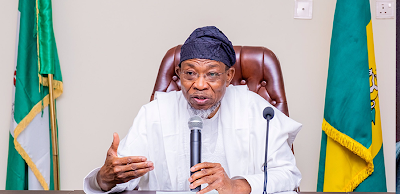 No passport booklets shortage in Nigeria – Aregbesola says NIS has no excuse for non-issuance on time
 "The deceased was born in 1927 to the families of Jimoh Adaramasha and Mrs Sabitiu Adaramasha. Mama in her early days was a popular waka musician within Agbara and its environs and was very popular with her music. She was at the same time a gaari merchant, a trade she held in high esteem.
"Mama at a point during her lifetime gave her life to Jesus and was a member of Mercy of God Church at Odan Agbara where she became a deaconess until her death.
"Mrs Tella Abeke Sarah took Christianity wholeheartedly and despite her age, she was a devoted Christian who participated in all church activities. She showed undiluted love to her children and grandchildren."
The statement by Tella disclosed that further announcements will be made by the family in due course.
Advertisement