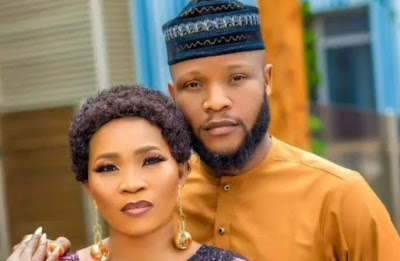 The nine-year-old union between Nollywood actress, Yewande Adekoya and her husband, Biodun Ishola Thomas has crashed.
The marriage crashed due to infidelity on the part of her husband and the continuous infliction of emotional abuse on the actress.
While explaining what led to the breakdown of the marriage, Yewande appealed to well-wishers not to drag her husband because she still loves him.
She added that her husband has been emotionally abusing her and is involved with several women.
"I was emotionally abused by my husband for some years. He talks to me anyhow and I used to cry almost every day when we were together. I used to beg him to show me love, to treat me right and act responsibly.
"I was our financial backbone all through these years, but I never for once complained. I just wanted to grow up and act responsibly and honour our marriage.
"He on the other hand only wanted to keep enjoying life and leave the serious part for me to handle.
"He has different girlfriends. At the beginning of our relationship, I was convinced he was faithful and then imagine my shock when I started seeing things that could make a woman go mad.
Thank God for God, therapy and family. He broke me into pieces. It hurts because I was 100% loyal to him. He took my virginity, he was my first."
She also revealed that her husband moved out of their house and has not called her since he left. She was forced to relocate to her father's house when she didn't hear from him for a very long time.
In a new development, the actress went to her Instagram page to appeal to her fans to spare her husband. According to her, since she spoke about her marriage crash, friends and fans have been abusing her ex-husband for being irresponsible.
She added that the man has not had rest since news of their marriage break-up went viral. She pleaded with her fans to forgive him because he is human.
Advertisement