Billionaire Richard Branson soared to the edge of space aboard his rocket ship Sunday before returning safely to Earth as the first man to fund his own spacecraft.
The Virgin Galactic founder along with five crewmembers took off from Spaceport America in New Mexico on a test flight aboard the VSS Unity. The rocket was attached to the underside of a plane when it left the spaceport near the city of Truth or Consequences Sunday morning.
As it neared 50,000 feet shortly before 11:30 a.m., the rocket detached from the plane. After ascending about 53 miles, Branson's ship returned to Earth with a smooth runway landing.
A livestreamed video showed Branson with a big smile on his face after taking off. He later congratulated all involved.
"Seventeen years of hard work to get us this far," said the entrepreneur.
The flight marks Branson's first trip to space. He was joined by two pilots and Virgin crew members Beth Moses, Colin Bennett and Sirisha Bandla.
"It's a beautiful day to go to space," Branson tweeted before taking off. The post included a photo of Branson alongside SpaceX founder Elon Musk.
Branson, 70, hopes to start sending customers into space through his Virgin Galactic company by next year.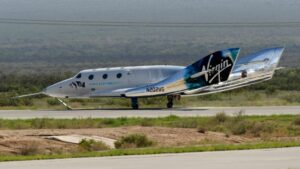 "After more than 16 years of research, engineering and testing, Virgin Galactic stands at the vanguard of a new commercial space industry, which is set to open space to humankind and change the world for good," Branson declared earlier this month.
"I'm honored to help validate the journey our future astronauts will undertake and ensure we deliver the unique customer experience people expect from Virgin."
Three test trips were completed by Virgin Galactic ahead of Sunday's launch.
"My mission statement is to turn the dream of space travel into a reality — for my grandchildren, for your grandchildren, for everyone," the English-born Branson tweeted.
Branson's trip comes nine days before Amazon founder Jeff Bezos is scheduled to travel into space on a mission with Blue Origin, the aerospace company he founded.
NY Daily News