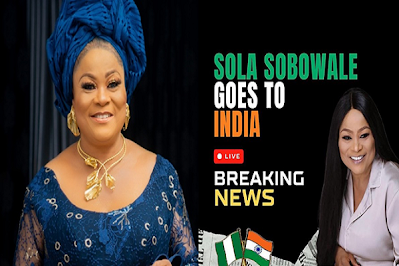 Nigerian veteran actress Sola Sobowale is beyond ecstatic after landing her first role in the Indian film industry, Bollywood.
The excited thespian took to her Instagram page to inform fans that she would be working with Hamisha, Daryani Ahuja, a record-breaking Director/Executive Producer, The Nation newspaper reports.
Sobowole also revealed she would be travelling down to India for the upcoming project adding she's eager to play her new role which she described as very dynamic
The "Toyin Tomato" actress shared a photo that captured her smiling with Nigeria and India; alongside an inscription that reads: "Sola Sobowale goes to India. Live Breaking News.
"I am so excited to announce that I will be working with record-breaking Director/Exec Producer, @HamishaDaryaniAhuja on her upcoming project!
"And… get this….we will be going to India to film! I will be playing a very dynamic role in this project and cannot wait for you to watch it. Are you excited as I am?"