Mac Job Grammar School Onikolobo Abeokuta and God'swill High School, Ipokia have respectively emerged as the champions in the male and female categories of the third edition of the annual late Chief Adetunji Jibowu handball competition for secondary schools in Ogun State.
In the male category, the boys from Mac Job School in Abeokuta beat the hard fighting defending champions, Iganmode Grammar School, from Ota, Ado-Odo/Ota in a keenly contested final.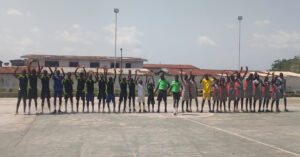 Also, the God'swill High School girls from Ajegunle, Idiroko defeated their counterparts Igbore High School, Abeokuta to emerge the female category champions.
In the classification matches, the God'swill High School Ajegunle Idiroko boys clinched the 3rd position in the male category while girls from Yewa College Ilaro came 3rd in the female category.
The following schools had earlier qualified from the zonal play offs across the state and participated in the quarter finals of the statewide handball contest for schoolboys and girls. In the male category were Macjob Grammar School Abeokuta, Igamode Grammar School Ota, Adeoye Lambo High School Obada, Ewekoro, Yewa College Ilaro, Semawa High School Sagamu and Godswill High School Ajegunle Idi iroko.
The girls' quarter finalists were Yewa College Ilaro, Igbore High School Abeokuta, Iganmode Grammar School Ota, Adeoye Lambo High School Obada Ewekoro, Remo Secondary School Sagamu and Godswill High School Ajegunle idi iroko.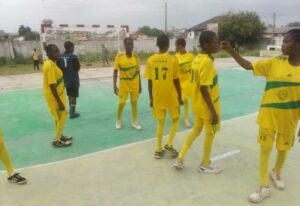 The Quarter finals and semi finals of the competition was played on 10th November 2022 at the Alake Sports Centre, Ijeja Stadium in Abeokuta while finals of both male and female categories were played on 11th November, 2022 at the same venue.
Head, Technical and Chairman of the organizing committee of the competition, Coach Abel Aihonsu, in his remarks after the completion of the third edition of the contest, expressed his profound gratitude to the Ogun State handball veterans in the Diaspora for their selfless financial and moral support for the sport in the state.
Among those who were commended for their total support for the school tourney include the Chairman of the Veterans, Adeyemi George (Osawe), the Chairperson of Veterans in Diaspora, Mrs Toyin Balogun, the State Veterans Secretary Lukman Babatunde Daramola and Chairman Handball CDC in Nigeria, Mr Gbenga  Akinwumi.
Others are, the Chairman Ogun State Handball Association, Mr B T A Bello, Secretary Ogun State Handball Association, Ope Agboba, and other members who have contributed towards the development of handball in the State.
The collegiate handball contest which is in conjunction with the Ogun State Handball Association is an annual secondary schools' competition in honour of a late former coach, Adetunji Ajibowu, one of the renowned pioneer handball coaches in Ogun State.