The training has given the children a worthy sporting foundation and rights to excel through sports
A 3-Day handball clinic for school children between the ages of 10 and 16 organized by A's Ahmedu Foundation, a non-government organization, ended on Saturday, August 20, 2022.
The program which kicked off on August 18, 2022, at the prestigious Iganmode Grammar School Ota in Ogun State had over 60 kids in attendance that were given the unique and exciting opportunity to experience specialized handball training.
A's Ahmedu Foundation paraded experienced coaches which were carefully selected to help build and improve the children's handball skills.
The training which was designed to discover talents with the intent to nurture and guide such to the international stage was endorsed by the Ogun State Handball Association (OGSHA)
A'S Ahmedu Foundation is a non-profit organization with the sole objective set to contribute positively to the development and projection of the Nigerian youths for a brighter and more rewarding future through sports.
The training at the Iganmode Grammar School, Otta allowed the kids to train like pro handball players, learning the basics of the game and the bests sports behaviors and values.
Lukman Omikunle, A's Ahmedu project manager, said the exercise was successful and had been heavily commended by parents whose children attended the 3-day clinic.
According to him, the training has given the children a worthy foundation and right to excel through sports. "Talents discovered during this exercise shall be monitored meticulously and nurtured and be guided to the international stage," Mr Omikunle said.
Also, the technical director of the program, Coach Abel Ahionsu, said the kids were amazing and are all eager to come for more of such exercise.
The Nigerian foremost handball coach, Ahionsu, added that the pattern of training modules by the coaches which were carefully selected for the clinic made it easier for the kids to learn the rudiments of the game.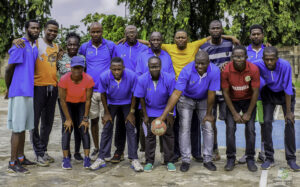 He also heaped encomium on the organizers for bringing up the program saying "it will rekindle the interest for the game of handball at the grassroots level."
The noble and selfless project was solely sponsored by the founder and president of the foundation, Mr Peter Ahmedu.
Advertisement