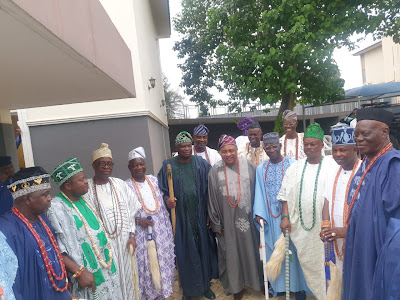 PRESS RELEASE
Awori Monarchs under the auspices of Ogun State Awori Obas Forum ably led by its Chairman, Olofin Apesin Olode, Olota of Otta, Awori Kingdom, His Majesty, Professor Adeyemi Abdukabir Obalanlege (Lanlege Ekun II, Arole Iganmode) on Thursday, 21st July 2022 paid a visit to the Chairman, Ogun State Council of Obas and Paramount Ruler of Remoland, HRM Oba Babatunde Ajayi FCA.
Speaking on behalf of the Ogun State Awori Obas, Kabiyesi Olota thanked HRM Oba Babatunde Ajayi FCA for the vibrant and equitable leadership he is showing since his emergence as the Chairman of the Ogun State Council of Obas. He assured Kabiyesi Akarigbo of their continuous support to Ogun State Obas Council under his able leadership. While stressing that the forum will remain resolute on their firm backing of the Ogun State Government led by the Executive Governor, Prince Adedapo Abiodun MFR in the collective bid of securing the future of the state.
The forum equally called the attention of Kabiyesi Akarigbo to some challenges facing the Aworis in the state and seized the occasion to thank His Majesty for extending his love all the time including the most recent gesture where he honored the invitation to participate as Royal Guest in the Awori Obas Retreat.
Responding, Kabiyesi Akarigbo commended Awori Obas for their commitments toward the development of the state and for their efforts in uniting the Aworis. Kabiyesi commended the forum for adding value to the Ogun State Council of Obas and their support to the State Government under the able leadership of the Executive Governor, Prince Adedapo Abiodun MFR.
Other Awori Obas in attendance were; Kabiyesi Oloja Ekun Igbesa, HRM Oba Abdulazeez Akinde FCA Kabiyesi Alagbado, HRM Oba Adedayo Shyllon Shogbolu Kabiyesi Onitetiku Owode Otta, HRM Oba Abdulwasiu Ogungbayi Kabiyesi Olodan Abuja, Alayeluwa Oba Tesilimi Ayinla Nosiru, Kabiyesi Idi Oke, Alayeluwa Oba Saheed Ifalohun Odusanya , Kabiyesi Onigboko Igbesa- Alayeluwa Oba Itu Olasunkanmi Yussuf , Kabiyesi Ajana Otta, Alayeluwa Oba Clement Akinyemi , Kabiyesi Onikotun Otta, Alayeluwa Oba Akeem Odunaro , Kabiyesi Akogun Otta, Alayeluwa Oba Wadudu Deinde , Kabiyesi Shoki Ere Ado Odo, Oba Jimoh Akinola , Kabiyesi Elegushi Otta, Alayeluwa Oba Maroof Adio Alagbe , Kabiyesi Ilukogun Igbesa, Alayeluwa Oba Jimoh Fagbohun , Kabiyesi Olobele Ilusata, Alayeluwa Oba Yaya Adesina, Kabiyesi Oloobere, Alayeluwa Oba Abiodun Opaleye, Kabiyesi Olorunda Oke Ore Alayeluwa Oba Olaore Oloyede.
Prince Adeyemi Sulaimon Olusesi
For: Ogun State Awori Obas Forum
Advertisement